UPDATE!
SPRING '18 TERM SEATS AVAILABLE TO PURCHASE NOW!!!
FULL SCHEDULE FOR SECOND MENTORSHIPS TO BE POSTED FOR STUDENTS ONLY
WELCOME TO THE MENTORSHIPS WITH
DAREK ZABROCKI
Hi! my name is darek zabrocki and i am a concept artist and illustrator for feature films and games. i would like to present you the new mentorships program i have been preparing lately.
After getting a lot of messages throughout the years regarding mentoring/online classes I finally decided to sit down and do it!
the challenge for it was to think through the possible way to do it and how to build the structure of the class itself.
The class will stress upon fundamentals on how to crucialy tackle enviroment concept design.
This is exactly the reason why this class will be accesible for students on all skill levels.
i will be providing you with the tasks that you will have to face as a concept artist.
I will gradually guide you through the tasks from the very basic ones to the industry standard briefs.
every student will have 8h one to one sessions with me throughout the course, and i will be giving talks and live demoing on the given tasks once every week.
you can also expect quick industry tips, paintovers on your works and a lot of good fun filled with knowledge all around!
See You :)))
-much love, Darek
I AM CONCEPT ARTIST AND ILLUSTRATOR FROM GDANSK, POLAND. I STARTED DRAWING AT THE AGE OF 3 AND IT WAS ALWAYS MY BIGGEST PASSION. I ALWAYS WANTED TO DEVELOP MY SKILLS SINCE THEN NOT ONLY BY LEARNING NEW TECHNIQUES BUT ALSO BY TOUCHING NEW GROUNDS AND IMPROVING MYSELF IN DIFFERENT SUBJECTS. DRAWING JUST KEPT GIVING ME AN EXTRA ENERGY IN MY LIFE.
THE DAY WITHOUT PRODUCING ONE SINGLE PIECE OF ART WAS A WASTED DAY FOR ME. IN 2007 I FELT IT WAS ABOUT TIME FOR A CHANGE IN MY ARTISTIC LIFE. I SWITCHED FROM TRADITIONAL TO DIGITAL MEDAIS AND LATER IT LED ME TO PURSUING CAREER AS A CONCEPT ARTIST. AFTER COUPLE YEARS OF EXPLORING DIGITAL TECHNIQUES I STARTED TO WORK ON PROJECTS FROM LEADING COMPANIES IN THE ENTERTAINMENT INDUSTRY. DREAMS CAME TRUE TO LIFE:
SOME OF THE PROJECTS I CONTRIBUTED TO INCLUDE WIDELY KNOWN FRANCHISES SUCH AS:
Assassin's Creed:Syndicate
NEED FOR SPEED: Payback
The Elder Scrolls Online: Morrowind
Maze Runner 3
King Arthur The legend of the Sword
Destiny 2
Halo WARS 2
Witcher3:Blood & Wine
magic: the gathering
horizon: zero dawn
jimmy fallon tv show
and more...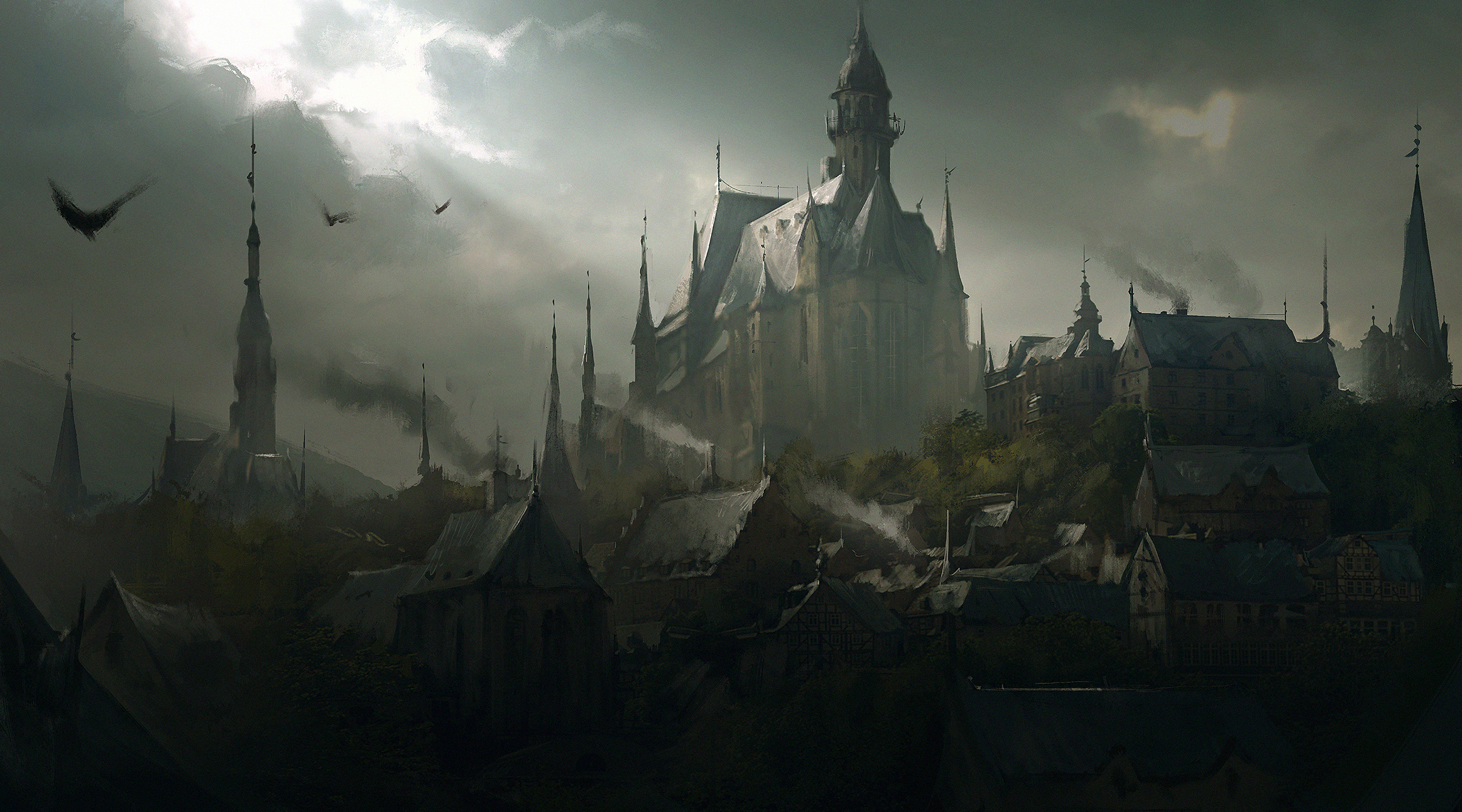 PLEASE USE THIS FORM IF YOU HAVE ANY QUESTIONS REGARDING MENTORSHIPS.
FAQ (Frequently Asked Questions)
What IS "ENVIRONMENT DESIGN WITH DAREK ZABROCKI"?
IT'S A BRAND NEW, EXCLUSIVE PROGRAM FROM DAREK ZABROCKI WHO AIM TO SHARE THE KNOWLEDGE IN A WAY LIKE NO ONE DID BEFORE. after the first wave of mentorships (march 2017) and very warm reception by students darek decided to continue the number of courses improving formula to be even more accessible for everyone.
what is the formula of "ENVIRONMENT DESIGN WITH DAREK ZABROCKI" Course?
You can sign up as student in two different ways.
you can sign up as tier 1 student. you will have the full access TO the files PACKAGE prepared for assigments. PACKAGE INCLUDES: pre-recorded Videos, industry standard task briefs, video files on every task, psd files, brushes, 3d files etc. you will get TO DO 4 "1 TO 1" LIVE FEEDBACK SESSIONS WITH DAREK (UP TILL 45MIN PER ONE). DURING THOSE YOU WILL GET OVERPAINTS, TIPS FROM WITHIN THE INDUSTRY, PERSONALIZED FEEDBACK. YOU WILL ALSO BE ABLE TO REVIEW OTHER PEOPLE'S 1 TO 1 SESSIONS THEY HAD WITH DAREK. NUMBER OF SEATS = VERY LIMITED.
you can sign up as tier 2 student. you will have the full access TO the files PACKAGE prepared for assigments. PACKAGE INCLUDES: pre-recorded Videos, industry standard task briefs, video files on every task, psd files, brushes, 3d files etc. YOU WILL GET 4 QUICK PRE-RECORDED FEEDBACK VIDEOS FOR THE WHOLE TIER 2 STUDENTS GROUP (ONE EACH WEEK). NUMBER OF SEATS = LIMITED.
ok so wHAT DIFFERS 1 to 1 MENTORSHIPS WITH DAREK FROM OTHER ONLINE COURSES AND MENTORSHIPS?
INTIMATE APPROACH TO EVERY STUDENT THAT DAREK IS GOING TO TAKE. EVERY STUDENT from 1 to 1 STUDENTS GROUP CAN EXPECT 4 PRIVATE AND EXCLUSIVe ONE TO ONE SESSIONS WITH DAREK THROUGHOUT THE COURSE, EXPERT BRIEFS AND TASKS BASED ON ART DIRECTION DAREK HAD TO UNDERGO ON DIFFERENT PROJECTS, HONEST AND VALIDATE FEEDBACK, INDUSTRY TIPS AND DEMO/PRE-RECORDED MATERIAL FOR EACH TASK EVERY WEEK.
WHO IS IT FOR? CAN I SIGN UP IF I AM NOT EXPERIENCED ARTIST?
ABSOLUTELY! THIS IS MENTORSHIPS PROGRAM SO EVERY LEVEL IS ACCEPTABLE. TASKS WILL BE STRUCTURED IN A WAY SO EVERYONE CAN TACKLE THEM No matter what TECHNIQUES they USE OR WHAT LEVEL they are AT.
WHAT ABOUT THE MENTORSHIpS CONTENT?
EVERY STUDENT WILL HAVE AN ACCESS TO THE FILES THAT DAREK WILL BE WORKING ON FOR THE CLASS PURPOSES. STUDENTS WITH "FULL ACCESS" CAN SEE OTHER 1 to 1 SESSION VIDEOS.
When do THE MENTORSHIPS start?
THE MENTORSHIPS START IN THE SECOND HALF OF JUNE 2017 AND WILL LAST FOR 6 WEEKS.
THERE IS PLENTY OF TUTORIALS ONLINE, BIG COURSES, FREE PLATFORMS SUCH AS LEVEL UP! WHAT CAN I EXPECT AS EXTRA FROM THOSE MENTORSHIPS?
THE PROBLEM WITH MOST OF THE paid COURSES IS THEY SHOW YOU EXACTLY HOW YOU SHOULD APPROACH TO THIS AND THAT TASK with not much deep insight. BASICALLY YOU ARE FOLLOWING YOUR TEACHERS WITH NO PERSONAL InPUT THUS YOU ARE JUST COPYING THEM. DAREK TOOK A LOT OF TIME AND THOUGHT THROUGH HOW TO MAKE MENTORSHIPS THATbreak these rules. in this mentorships program you will have freedoom to stay who you are whilst LEARNING AS MUCH TO BUILD your OWN UNIQUE STYLE AND VOICE THAT IS VERY RARE ON TODAY'S MARKET.
Yes! ALTHOUGH 1 to 1 MENTORSHIPs HAve LIMITED SEATS, SO IF IT'S FULL YOU CAN SUBSCRIBE for next ones or buy pre-recorded sessions!
YES. HOPEFULLY YOU WILL NOT HAVE TO ASK FOR IT! :)
in case you have any more questions please send your message
Students Gallery(Fall'17)
Students Gallery(March'17)